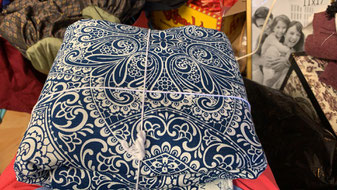 I made a 16th C. loose gown using the same pattern as the black velvet gown I made.  I used a heavy cotton fabric that was of the same weight as upholstery fabric.  I purchased the fabric at Gulf Wars, and thought it had a lovely blue and white pattern.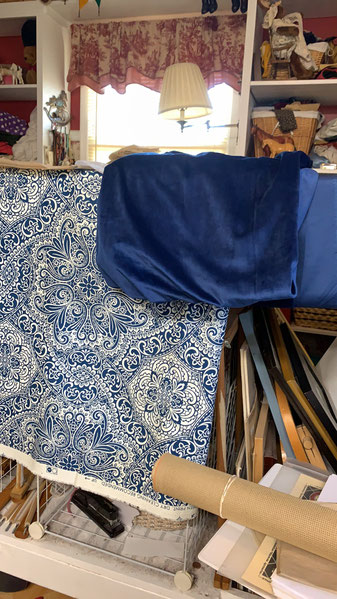 I purchased a matching blue velvet to use for the binding on the edges and for the kirtle I will wear underneath it.  It is an upholstery type of fabric, made of polyester, but light enough to drape properly for the kirtle.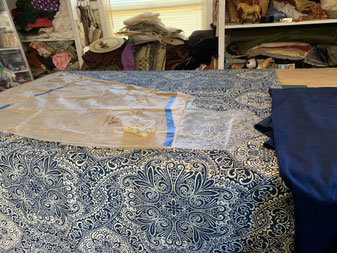 I used the same pattern as when I made the black velvet loose gown.  I started with a Margo Anderson's Elizabethan Comfort pattern, and made adjustments.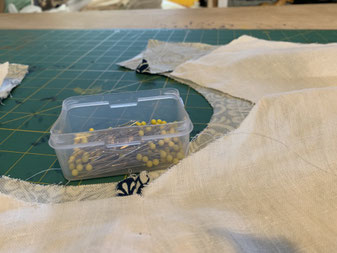 I used a bleached linen for the lining, and cut out the lining using the same pattern as for the outer fabric.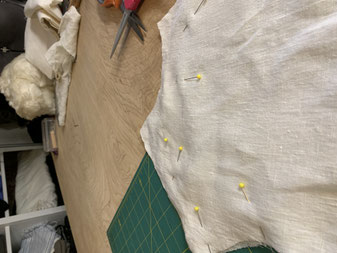 I pinned the pieces together to make sure the pieces did not shift.  I plan to bind the edges with the blue velvet that I will make into bias tape.  I machine stitched all around the pieces.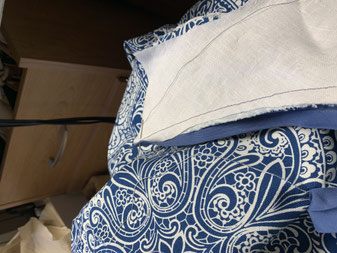 I cut a curved opening in the shoulders, as has been documented.  I cut through both the lining and outer fabric.  My plan is to bind the edges with the blue velvet I bought for the kirtle which I will wear underneath the loose gown.  I made bias tape out of the blue velvet, and machine stitched one edge to the opening.  I folded the bias tape over and hand stitched it down on the inside of the gown.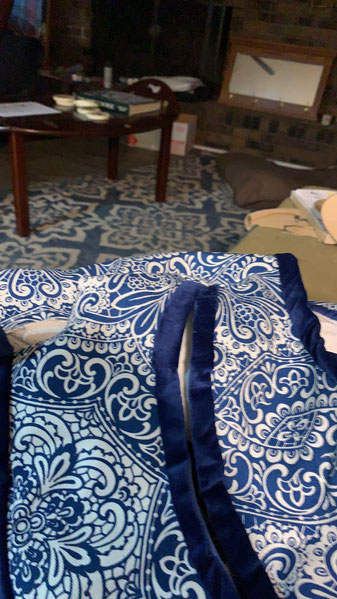 After sewing the slits in the shoulders, I stitched the pieces of the gown together.  I then covered all edges in the blue velvet bias tape.  Once again, I machine stitched one side down on the right side of the fabric, folded the bias tape over, and hand stitched on the inside.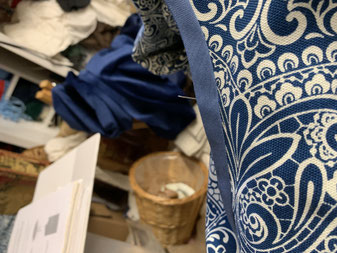 Some of the completed work.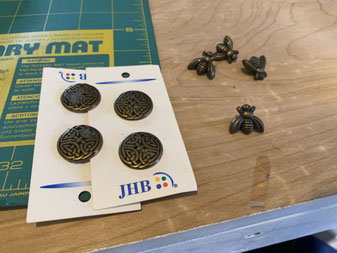 I stitched buttons to the slit to hold it together.  I had gotten the bee buttons, but decided I didn't like them for this use.  So I used the large brass buttons instead.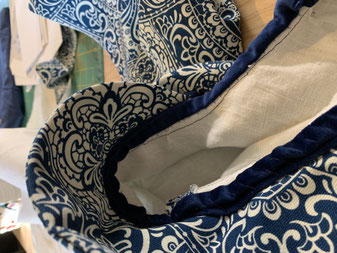 I made "wings" for the top of the shoulders and hand stitched them.  Here you can see the inside of the gown, and the hand stitched side of the bias tape.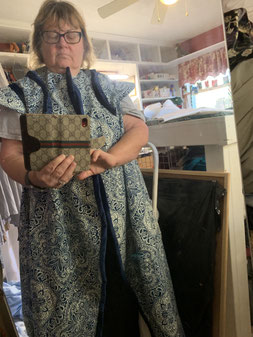 Here is the semi-finished gown.  I have to add the collar around the neckline yet.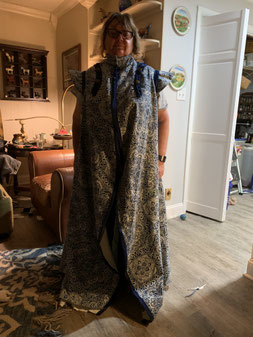 This is a really poor photo, but it is the finished gown before hemming and before the hook and eye closures have been added. However, I quickly realized that it was too large and needed to be taken in.  I have lost weight since I made the black velvet.  More pictures to come soon!